Gazelle AH.1
Info
Nation
United Kingdom
Class
Recon Helicopter
Variant(s)
Gazelle AH.1 SNEB
Cost
65
Specifications
Armor
Front 0 / Side 0 / Rear 0 / Top 0
Strength
3
Size
Very Small
Optics

Exceptional

Stealth
Pooe
Fuel Capacity
480 L
Autonomy
680 km
Year
1971
Type
Marine, Airborne, Mechanized, Armored, Motorized, Support
The
Gazelle AH.1
is a light helicopter of
French
design, for British export only. It has had many variants through the years, and has been exported to an impressive number of countries, most of them still using them. Fast and exceptionally good at spotting units, the Gazelle AH.1 is the perfect air reconnaissance vehicle choice.
Available to NATO forces, the Gazelle AH.1 makes it's armed Gazelle AH.1 SNEB variant available.
The Gazelle AH.1's main features are:
High speed. It is the fastest reconnaissance helicopter available to NATO forces.
Low fuel consumption.
Excellent optics.
High price for an unarmed vehicle.
Very fast, agile and very good optics, it's probably the ideal air recon. Best used to spot early enemy rushes then retreating it over a forest on your flanks to spot any sneaky moves. No reason to keep it close to Buks range... Except as a pricey bait?
The Aérospatiale Gazelle originated in a French Army requirement for a lightweight utility helicopter. The design quickly attracted British interest, leading to a development and production share out agreement with British company Westland Helicopters. The deal, signed in February 1967, allowed the production in Britain of 292 Gazelles and 48 Aérospatiale Pumas ordered by the British armed forces; in return Aérospatiale was given a work share in the manufacturing programme for the 40 Westland Lynx naval helicopters for the French Navy.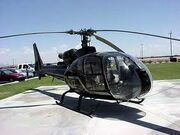 Though the general layout resembles that of the Alouette series, the Gazelle featured several important innovations. This was the first helicopter to carry a Fenestron or fantail, which allows considerable noise reduction. Also, the rotor blades were made of composite materials, a feature now widely used in modern helicopters.
In service with all branches of the British armed forces—the Royal Air Force, Royal Navy (including Royal Marines) and the British Army in a variety of roles. Four versions of the Gazelle were used by the British forces. The SA.341D became the Gazelle HT.3 in RAF service, equipped as a helicopter pilot trainer (hence HT). The SA 341E was used by the RAF for communications duties and VIP transport as the Gazelle HCC.4. The SA 341C was purchased as the Gazelle HT.2 pilot trainer for the Royal Navy. The training variants have now been replaced by the Squirrel HT1. The SA 341B was equipped to a specification for the Army Air Corps as the Gazelle AH.1 (from Army Helicopter Mark 1). It was used as an Air Observation Post (AOP) for directing artillery fire, Airborne Forward Air Controller (ABFAC) directing ground-attack aircraft, casualty evacuation, liaison, and command and control, and communications relay.
Community content is available under
CC-BY-SA
unless otherwise noted.